Posted August 29, 2022 by FreedomPay
Women in Technology: Mugdha Vaidya
(33%) of the workforce at large, international Tech companies. FreedomPay's Women in Technology series aims to inspire ambitious women globally to consider careers in Technology and motivate them to take on leadership responsibilities by giving strong, successful, and passionate women a platform to share their stories.
Mugdha Vaidya is Quality Assurance (QA) Team Lead at FreedomPay. She was honored as one of 2021's Rising Stars in FinTech by Women of Color magazine. Formerly a Civil Architect, Mugdha took an unconventional route into Technology. The working mom's enthusiasm for problem-solving and continuous professional development is palpable as she shares her ongoing career and personal journey.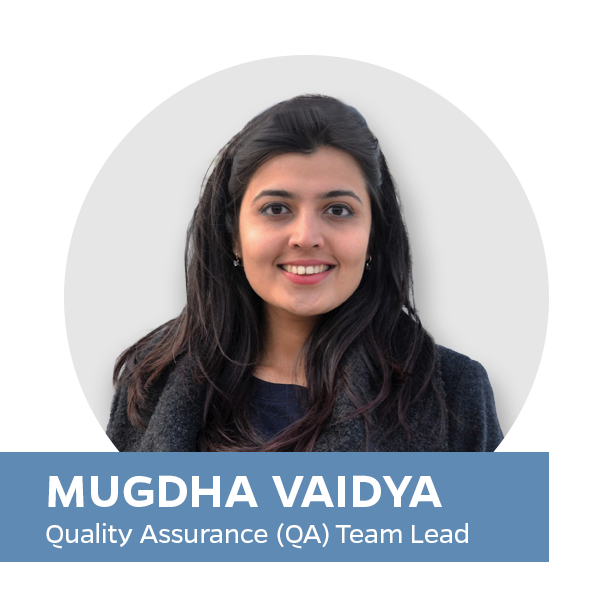 Describe your route into Tech.
I practiced Architecture for five years then decided that I wanted a change. I was fortunate to have friends and family working in Tech as Developers in QA, who encouraged me to make the jump and eased my transition with their guidance and support. They reassured me that I could return to Architecture if I didn't gel with Tech, but it's been eight years and I haven't turned my back on it!

Tell us about your role.
I joined FreedomPay in September 2017 as a QA Analyst and was promoted to QA Engineer. I've been a QA Lead for our Web Applications for almost three years and have worked across different teams, allowing me the opportunity to learn a lot about our industry and products.

Which women inspire you?
YouTube CEO, Susan Wojcicki, is one of my role models. Also, Maya Hari, the Managing Director of Southeast Asia and India at Twitter, and Lori Greiner who has her own show on QVC. I worked at QVC, testing the internationalization of their mobile application, focusing on currencies and European regulations. I met Lori when we were working and filming in the same studio. I was in awe of her and her success in building a huge empire.
The women at FreedomPay are next level, too – they make me want to achieve more and more. Jackie McCarthy (VP, Financial Operations), Courtney Kelly Peters (VP, Partnerships), Eileen Hannan (Associate Director, Implementations and Customer Success), and Allison Jones (Executive Assistant to CEO, and Office Manager) are so talented, their confidence inspires me.

Can you offer any advice for girls and women considering a career in STEM?
I'm a perfect example of going from having no formal education in tech to thriving in this industry. So, take up a course and start learning without being afraid of whether you'll be able to do it. Just try it!
These eight years in Tech have been a continuous learning curve. Learning a tool is like learning a new language. It can be difficult at the beginning but becomes a lot more fun as you start to solve the challenges. It motivates you to keep learning. As technology is ever-changing, you need to evolve. I set aside a couple of hours a week to learn a new programming language or tool.

How can Tech companies support women?
Leadership programs are valuable in elevating women's confidence and boost morale. We can also increase representation by being supportive and inclusive of other genders. Education, continuous mentoring and highlighting achievements will bring more women into this industry.

Describe the culture at FreedomPay.
The culture at FreedomPay is the reason I've been here for so many years. When I started, I had relatively limited experience, but the people helped me learn and understand the processes. Learning the different tools and terminologies around payment gateways was challenging but the people at FreedomPay have been fantastic and want to support you as you learn.

Thank you, Mugdha!

Are you interested in joining FreedomPay? We're hiring. Visit our careers page today. FreedomPay is an equal opportunities employer, motivated to hire women and other underrepresented groups in STEM.