Posted September 28, 2022 by FreedomPay
Women in Technology: Jen Shoemaker
FreedomPay's Women in Technology series seeks to inspire ambitious women globally to consider STEM careers and take on leadership responsibilities. FreedomPay is committed to boosting the proportion of women studying STEM subjects, currently representing 21% of Engineering majors and 19% of Computer science majors, by giving strong, successful, and passionate women a platform to share their stories.

Jennifer (Jen) Shoemaker started at FreedomPay in 2019. The highly educated Platform Solutions Manager has 12 years of experience in Engineering and Software.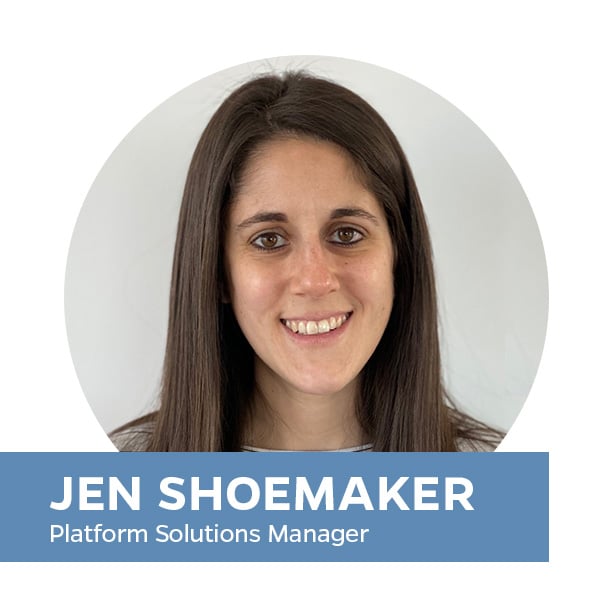 How did you get into STEM?
When I was a child, I loved numbers and excelled in Math. I went to college for Engineering as it combines Math and Science, which are two of my passions and were my strongest subjects at High School. I majored in Materials Engineering and began my career as a Materials Engineer for the Navy, working to control ship corrosion.
I moved on from the role as governmental red tape slowed processes down. I wanted to work with a product that would have a more immediate impact on the end user. I went to grad school and earned a Master's Degree in Systems Engineering. Software Development interested me as it involves logic and many aspects of Systems Engineering.

What was your next step?
After graduating, I worked for Thomson Reuters on a product for banks to perform background checks and due diligence. The role combined up-front work and back-end configuration, from project management and requirements gathering, to supporting technical teams by implementing and prioritizing code. I was promoted to COB Platform Technical Manager, leading a team of Technology Consultants to develop and support complex, large scale global implementations of Client Onboarding (COB) software.
Three years ago, I joined FreedomPay. Our software is ubiquitous, and I was keen to understand the back-end technology!

Tell us about your role at FreedomPay.
I lead the Infrastructure Project Management team. I coordinate with teams across the company and supervise project managers and business analysts. I oversee projects related to infrastructure, including building hardware, servers, security, and even data centers.

FreedomPay is a very entrepreneurial company, so people are receptive to solving any needs you might identify and implementing a solution. Your contribution and its positive impact are recognized.

How would you describe the company culture at FreedomPay?
There is seamless collaboration and people are very happy to help one another, however they can. People appreciate and acknowledge a job well done.
Policies such as remote and hybrid working are helpful for employees with young families. It's great to see people in person at the office but having the long-term flexibility to manage your own time is really valuable for a work-life balance.

What is it like to be a woman in STEM?
People are often surprised to see a female Engineer, but I've found they show the same level respect for men and women in STEM. It's most important to be confident in your capabilities.

Do you consider any Women in STEM to be role models?
My biggest female role model was the Head of the Materials Engineering department at my college, who was also my Senior Design Advisor. She was intelligent, educated, well-respected, and self-assured, as well as fair and compassionate as a professor. Her strong soft skills complemented her technical understanding, and she motivated me to work hard to be like her.
Explaining technical concepts clearly to non-technical people and bridging the knowledge gap is a challenge in STEM. There are left-brained and right-brained people, but I particularly respect those who can balance analytical thought with communication and creativity.

Why should women in Tech consider FreedomPay when applying for roles?
The culture is very supportive and collaborative, for all genders. The company promotes men and women equally and takes an active approach to professional development.
Women at FreedomPay support each other and there's a sense of camaraderie. We have a women's channel on Teams, attend the annual Women's PA Conference, and set up company-sponsored events for International Women's Week.

Thank you, Jen!

Are you interested in joining FreedomPay? We're hiring. Visit our careers page today. FreedomPay is an equal opportunities employer, motivated to hire women and other underrepresented groups in STEM.