Posted August 16, 2022 by FreedomPay
Women in Technology: Courtney Kelly Peters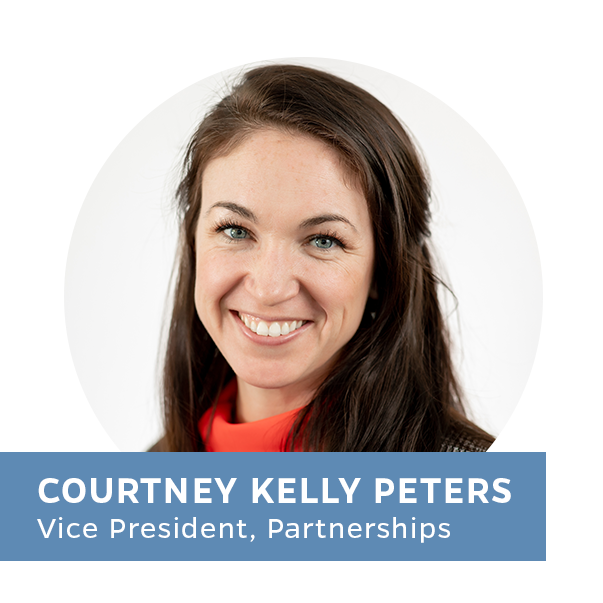 In the US, women account for only a quarter (25%) of workers employed in Technology. FreedomPay's Women in Technology series aims to inspire ambitious women globally to consider careers in Tech and motivate them to take on leadership responsibilities by giving strong, successful, and passionate women a platform to share their stories.
Courtney Kelly Peters is Vice President of Partnerships at FreedomPay, specifically focused on North America. Courtney has been named as one of the Top 50 Women Leaders of Pennsylvania for 2022 by Women We Admire, and as one of the Top 25 Women Leaders in Financial Technology in 2020 by The Financial Technology Report.
Courtney joined FreedomPay in April 2017, paving an unusual path to Tech Exec, from studying Human Nutrition and working in Hospitality to Sales and Partnerships. The mom-to-be shares her insights and inspiration.
What does your role involve?
I lead the Partnerships team to fulfill our company's business development objectives around monetizing and optimizing relationships with potential and existing acquiring and integration partners. This involves setting partners up as referral resources, evaluating their businesses, and growing our partnerships. I also oversee our reseller channel, from business development and sales training to operational duties such as ordering hardware and setting up accounts. I also do some direct enterprise sales that I'd been working for some time or have an interesting tech approach. I started in sales at FreedomPay around 5 years ago and like to hold on to a couple of direct deals myself.
Tell us about your unconventional path into Tech
I took an untraditional route. I studied human nutrition at undergrad and grad school, then moved to New York City and alternated between bartending and travelling the world for seven years. The interpersonal exchanges I had throughout those experiences hugely influenced how I socially interact with people and problem solve which ultimately impacted my ability to effectively transition into a Sales role. Then, I was hired by a leader in the Payments space to sell the same Point of Sale systems that I'd used as a bartender. Soon after, FreedomPay reached out to me on LinkedIn and the rest is history.
What do you like about working at FreedomPay?
I like being challenged. I've always been very competitive, so the challenge of trying to close a deal or learn something new motivates me. Being surrounded by so many intelligent peers with different ideas to share makes FreedomPay highly collaborative, motivating and engaging. This helps to strengthen the skills that can transform our employees into strong leaders and better allies.
I also love the people that work here – I've made some great lifelong friends and had great mentors along the way. Nate Ware has been instrumental in my personal career growth, but I also see how he elevates others on his team to be the best versions of themselves. It is a leadership quality that I strive to emulate.
How does FreedomPay encourage collaboration?
In my role, there is consistent overlap with client-facing and internal teams within FreedomPay. We all collaborate to create a fantastic customer and partner experience with our innovative technology and commitment to customer success.
At FreedomPay, all employees receive additional compensation through a pooled commission plan, which helps to drive collaboration even further. This unique program incentivizes project engagement and team pride in our achievements.
All of this and more guide our strategic, cross-functional engagements, help set clear objectives and identify targets or areas for improvement. This helps move the needle faster.
What is it like as a woman in Tech?
I am glad to see the women becoming more interested and entering into these exciting and challenging tech careers. It is inspiring to see how the number of women in leadership positions in the sector and at FreedomPay specifically are growing through internal promotions and external hiring. We're seeing an increase in women interested in moving into this space. We also have many allies, who empower our next generation of women leaders.
How can people be good allies to women in STEM careers?
Recognizing and elevating women with leadership and growth potential is changing the game. Women leaders are valuable, tending to lead with empathy and supporting their team members to elevate them and ensure everyone feels comfortable. If we continue to build these individuals into strong leaders, there is no stopping the inevitable transformation of the workforce.
Do you have any role models?
I'm going to become a first-time mother within the next month. I have recently found myself looking to women that have children and balance their families with their careers as role models
My own mother's work ethic and dedication to our family have always inspired me. As a working mom, she organically grew her career while raising three little ones with my father. She set the bar high for what it means to work hard for what you want while creating a wonderful life.
The women I find most inspiring and influential have the qualities that I try to portray myself with as a leader: confidence fueled by increased knowledge of technology and self-awareness.
I really admire some of the women at FreedomPay who work on the technical side. I'm in awe of Sam Wildonger. She's around my age and her career progression in Technology has been inspiring. Watching her become a mother twice since she's been at FreedomPay gives me hope because I was concerned about how being pregnant would impact my career. I worked hard to advance within FreedomPay and have different teams view me as a leader. I really didn't want that to change. I spoke to Sam and that conversation shifted my attitude about moving into this next chapter of my life. She was quickly elevated to a new position just two months after she came back from maternity leave, and her success motivates me to be just like her.
Do you have any advice for girls and women that want to work in Tech?
Find your niche, what you're great at. You don't have to be an engineer, a coder, or work on the QA team to be a part of the experience that technology brings. There's tech all around us, whether that's our phones, laptops, or other devices.
You can get into Account Management or Project Management, or work with Implementations and Client Success. You can be the face of the business or sit further in the background and strategize. Those are all vital roles in Tech.
If you're interested, always reach out and ask questions. That can sometimes be hard for women. It's not easy to speak up when you don't know something or missed the explanation but just ask. A lot of people are excited, happy, and interested in helping younger people, and women specifically, to grow their careers.
Why should women candidates choose FreedomPay?
There are a lot of internal allies at FreedomPay that are interested in helping women to be successful. Our collaborative culture values creative approaches to problem solving. We're a very inclusive community where everyone's thoughts and ideas are truly appreciated beyond just what their pronouns and beliefs are. It crosses cultures and religions. We get to know people on a personal level and it creates a strong bond in and out of the office. You'll have a fantastic support system and an intelligent team.
Thank you, Courtney!
Are you interested in joining FreedomPay? We're hiring. Visit our careers page today. FreedomPay is an equal opportunities employer, motivated to hire women and other underrepresented groups in STEM.