Posted August 18, 2022 by FreedomPay
Women in Technology: Kristine Greck
FreedomPay's Women in Technology series aims to inspire ambitious women globally to consider careers in Tech and motivate them to take on leadership responsibilities by giving strong, successful, and passionate women a platform to share their stories. Only 38% of women in the United States who majored in Computer Science are working in the sector, leaving plenty of opportunity and open doors for women to enter the space.

Kristine Greck is Vice President of Platform Solutions at FreedomPay. She holds a Bachelor's degree in Marketing with Spanish from West Chester University. Kristine has worked at FreedomPay since March 2010 across Client Services, Implementations, Account Management, Tech Support, Marketing and Program Management. Kristine shares her experience, and advice, and inspiration.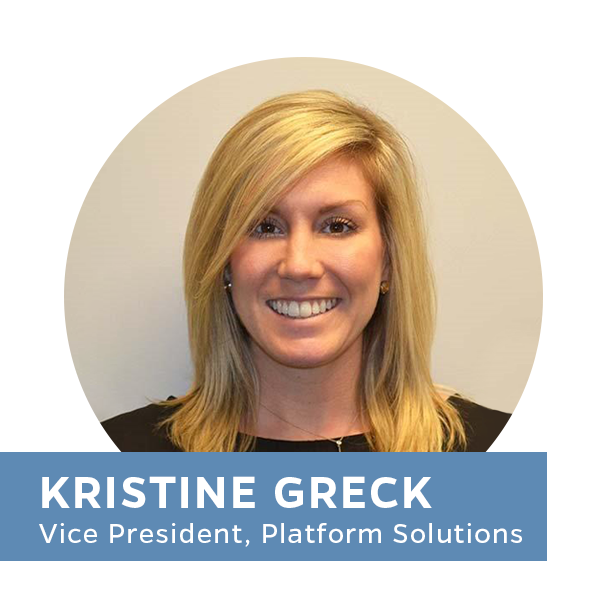 You've been with FreedomPay for 10 years! What was your route to VP?
I started at FreedomPay as a Field Marketing representative. I'd stay late to gain experience assisting the Project Managers. I was promoted to Sales, then moved to Implementation after 3 months. I implemented our first Point to Point Encryption. We grew rapidly and I hired two people under me. Next, I moved into Account Management, managing our key accounts in Food Services.
I then ran Tech Support for a couple of years – I had no formal education in this, but Chris Kronenthal (FreedomPay President) took a chance on me. And before moving to Platform Solutions, I led Product Marketing whilst managing side projects.
Through my experience, I've become a Swiss army knife at FreedomPay. In Platform Solutions, I leverage my legacy FreedomPay knowledge and experience to help enterprise merchants with digital transformation engagements. This includes large scale deployments, net new development, and our value-added services offering.

What do you like about working at FreedomPay?
The people. I'm blessed to have worked with such talented folks! Our developers build industry-leading technology, Sales and Marketing bring world-leading merchants to our platform, and Operations manage our customer-centric support.
I enjoy how our leadership team trusts us as employees. We can suggest and implement better processes and practices and try new, exciting things, aligned with the company's vision.
The culture at FreedomPay is work hard, play hard. FreedomPay leadership, especially Allison Jones (Office Manager & Assistant to the CEO), make us feel appreciated and part of a community that makes time for fun.
FreedomPay is flexible around employee schedules to balance work and home life. There is no micromanagement.
What are the biggest successes of your career?
Climbing the corporate ladder at FreedomPay. In a decade I progressed from a Call Center Rep to a Vice President through extremely hard work and our Executive Team's support.
My biggest success here has been getting a concession stand for the Super Bowl bid live in three days, setting up twenty more in two weeks and winning the business. Other highlights include launching our first P2PE solution, implementing our first Value-Added Services offering and building the go-to-market roadmap for Marriott's global deployment.

When did you realize you wanted to work in Tech?
I've always been drawn to the Tech world as my father was a network engineer for 35 years. I visited his headquarters as a kid and was fascinated listening to him on conference calls with developers and seeing their models come to market.

What advice would you girls and women hoping to succeed in STEM careers?
Be confident. You don't have to be shy about believing in yourself and taking credit for your achievements. Show up for yourself and go for it!
Speak up and don't be afraid of making mistakes as no one is perfect – we're continuously learning. You grow more when you fall and get back up than when things go right all the time.
Knowledge is power, so take the time to study up. Also, find a mentor to reach out for advice without fear of constructive criticism. If somebody advises you how to improve, listen and be open to it.

Who are your role models in Tech?
Jackie McCarthy (VP of Finance) at FreedomPay is my biggest role model. After my interview with her, I remember thinking, "I hope I make it to VP with a glass office like her." Jackie is so skilled in Finance and Business and expresses herself kindly and directly.
Allison Jones is another one of my role models. She balances so many different responsibilities while making every employee feel seen. I try to channel her mentality.

Why should women candidates consider joining FreedomPay?
You get as much out of working here as you put in, and we learn so much from one another. It's a land of opportunities whether you're a seasoned executive or straight out of college. FreedomPay recognizes talent and passion and allow you to try something new if a role isn't the right fit for you. If you want to move up, there's a path for you here.
Thank you, Kristine!

Are you interested in joining FreedomPay? We're hiring. Visit our careers page today. FreedomPay is an equal opportunities employer, motivated to hire women and other underrepresented groups in STEM.