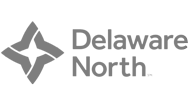 "Our strategy was to use a single platform so that our POS, PMS and eCommerce provider could build a 'one and done' integration effort with the FreedomPay Commerce Platform."
Dan Zimmer
Vice President of Finance and Corporate Development
Delaware North Partners with FreedomPay as Commerce Technology Partner
The Company
Delaware North is one of the world's most admired hospitality brands, serving customers in dining, sports, hotel, gaming, and travel spaces. Delaware North operates on four continents, serving half a billion guests each year. In the United States, they process concession, retail, and lodging transactions in venues ranging from professional sports stadiums to national and state parks. With over 100 years of family ownership, Delaware North is ranked by Forbes as one of the largest privately-owned companies in the world. The company's team of 60,000 utilizes that century of experience to serve clients and guests.
The Challenge
Delaware North recognized that they needed a technology partner that could provide omnichannel payments across their vast ecosystem of Point-of-Sale Systems (POS), Property Management Systems (PMS) and eCommerce applications, while providing a PCI-Validated Point-to-Point Encryption (P2PE) solution to ensure the security of their customers' data.
The Results
FreedomPay's PCI Validated P2PE solution allowed Delaware North to use customer facing devices, along with EMV and NFC capabilities, that not only protect customer data, but provides the fastest transaction speeds in the industry. FreedomPay's innovative encryption solution provides Delaware North's guests the perfect combination of convenience and security. And by adopting FreedomPay's commerce engine, Delaware North is able to holistically view their entire corporate environment, cross-ecosystem, to understand buying trends, customer segments and provide unique, consumer-driven incentives, changing the way that businesses interact with their customer. FreedomPay now has a deployment plan to cover every aspect of Delaware North's business.