RTS 2023
Last week, FreedomPay exhibited at the Retail Technology Show in London. Here are some of our highlights.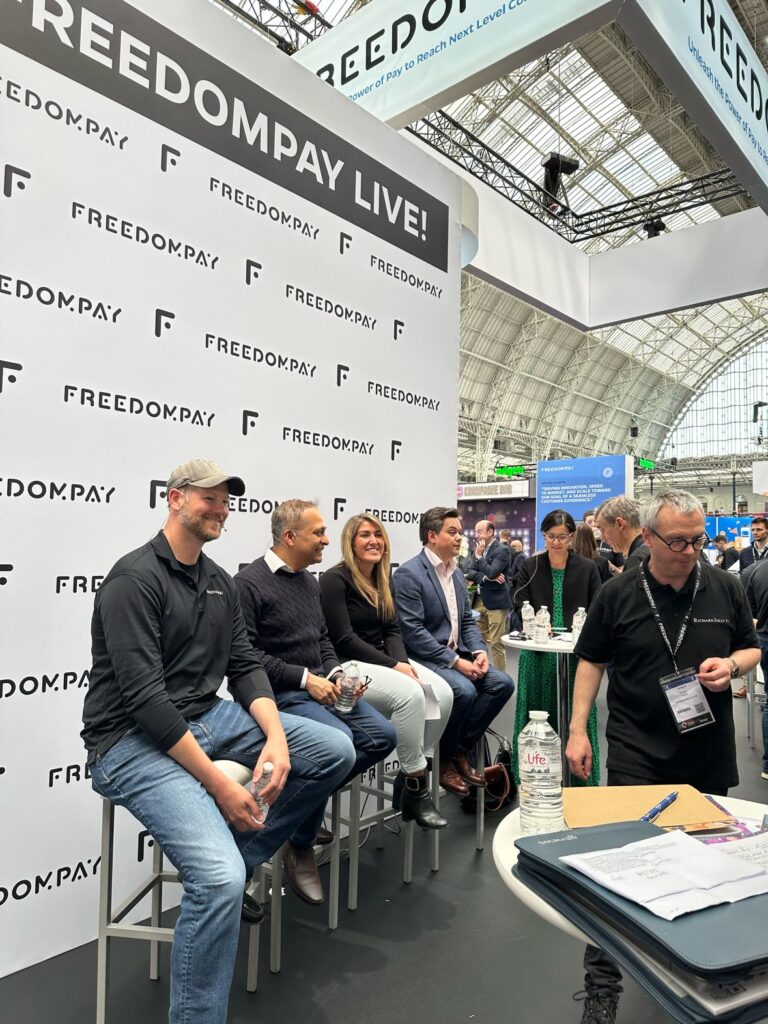 LIVE FROM THE SHOWROOM FLOOR
Harnessing Payment Data to Understand the Full Consumer Story
FreedomPay unpacks the challenges retailers face in leveraging data to provide a premium consumer experience. Topics include challenges in collecting data across an enterprise, deriving insights from the data, and how to activate insights to drive consumer behavior.
Using Technology to Solve for Consumer Loyalty
FreedomPay speaks to the daunting task retailers have in mastering their loyalty strategy. Topics include the loyalty landscape gaps creating friction, foundational elements of a successful enterprise loyalty strategy, and how retailers are reevaluating tech stacks to create bespoke and innovative loyalty strategies.
Exclusive Research Release
Barry Stern, VP of Partnerships at FreedomPay unveils exclusive research from Retail Economics and FreedomPay, entitled, "Personalisation Pays: How Data-Driven Strategies are Shaping Retail".
How "Pay with Points" is Redefining Consumer Share of Wallet: FreedomPay's Multi Merchant NetworkTM
FreedomPay outlines why converting loyalty program points into usable currency will disrupt the payment space. Topics include why this functionality has historically stumbled, why we are at a tipping point to course correct, and what the early behavioural shifts have been in consumers where this type of technology is enabled.
FREEDOMPAY INTERVIEWS
Payment Optionality
Listen in to Barry Stearn, VP of Partnerships at FreedomPay, on how crucial payment optionality is. Why are ways to pay intrinsic to the consumer journey, and which external factors affect customer preferences?
Cart Abandonment: The Harsh Reality
Hayley Henshaw, Director of European Partnerships at FreedomPay explains the importance of payment optionality.
Supporting an Omnichannel Customer Journey
Listen in to Barry Stearn, VP of Partnerships, on how FreedomPay is gathering continuous feedback from partners and customers in order to take on new market trends and payment options.
VIDEO & PRESS RELEASES
FreedomPay Unleashes the Power of Pay to Deliver True Omnichannel Next Level Commerce™ for Retail
FreedomPay advances its presence at #RTS2023 to announce itself as the only viable option for unified commerce.
A live roundtable at RTS 2023 moderated by Natalie Berg joined by the top voices in retail payments from FreedomPay, Accenture, Retail Economics, and the BRC. These industry thought leaders evaluate the current commerce landscape, the trends influencing its future, and success strategies for merchants.
WATCH NOW

Freedompay, one of the world's fastest growing fintech showcases award-winning global commerce technology and their industry-leading partner network at Rts. Catch the Highlights