Posted May 17, 2023 by FreedomPay
Prommt Announce US Partnership with Leading Payments Platform FreedomPay
Irish paytech company, Prommt, announces extension of its partnership with FreedomPay in the US during Irish Government Trade Mission in NYC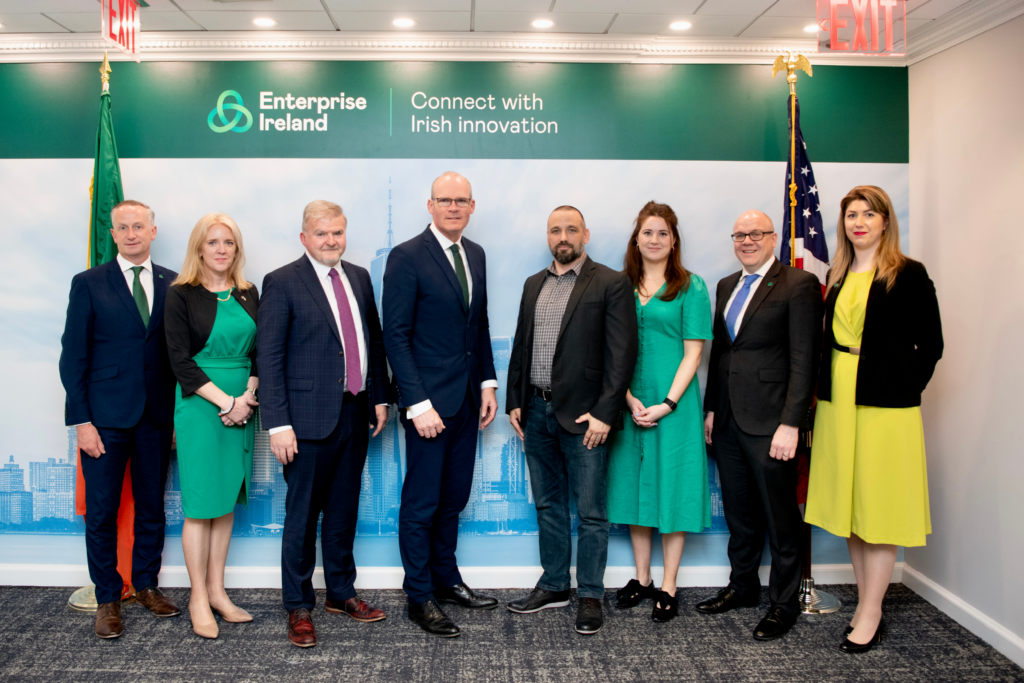 May 15, 2023 – IRELAND & USA – Leading payment request platform Prommt has today announced that it has extended its partnership with one of the world's top payment brands, FreedomPay, to the US market. This partnership builds on existing collaboration in Europe and was announced today during the Government of Ireland's US Trade Mission, at a special delegation meeting in New York City with Simon Coveney, Minister for Enterprise, Trade and Employment, Nathan Ware, SVP, Global Sales, FreedomPay and Donal McGuinness, CEO of Prommt.
By partnering with FreedomPay, Prommt has a significant growth opportunity in the US, given the company's impressive footprint across North America. FreedomPay has established itself as a leader in several key industries, including retail, hospitality, healthcare, and education, by offering tailored, secure, reliable, and scalable solutions that cater to the specific needs of each industry. Moreover, FreedomPay is a trusted partner to businesses across North America, providing them with the tools they need to succeed in a competitive marketplace.
Nate Ware, SVP of Sales & Digital Development at FreedomPay said: "We are proud to grow our partnership with Prommt and continue to bring next level flexibility and functionality to enterprise customers across the US and Europe. With FreedomPay and Prommt's joint successes in key verticals including Hospitality, Retail, and F&B, we look forward to driving innovation and customer satisfaction."For FreedomPay, the partnership with Prommt is a valuable addition to its Next Level Commerce solution, as it offers their US-based clients a more personalized and sophisticated remote payment collection solution. This is especially beneficial for enterprise clients who require a more robust remote payment experience for their customers, coupled with advanced reporting and alerting capabilities that add value to their business.
Prommt's integration capabilities to leading hospitality Property Management Systems such as OPERA Cloud, further enhances their offering within the hospitality sector and empowers hotels to offer an enhanced streamlined payment process for the collection of advance bookings, outstanding balances/accounts receivable, and guest payments for events.  In addition, Prommt will reduce card fraud and chargebacks, as well as significantly reducing payment operations costs.
With the assistance of Enterprise Ireland, Prommt is continuing to expand its customer footprint in the US market through a range of in-market intelligence and other resource supports.
Commenting on this latest milestone on their partnership with FreedomPay, Donal McGuinness, CEO of Prommt said:
"We are delighted to expand and deepen our relationship with FreedomPay as we continue to build our presence in the US market. FreedomPay is a global payments brand, with a dominant position achieved in markets that neatly align with Prommt such as Hospitality and Sports & Entertainment. We look forward to continuing to foster our partnership and are proud to help strengthen the Freedompay Next Level CommerceTM offering.
About Prommt 
Founded in 2017, Prommt is a payments request platform that is revolutionizing remote payments for enterprises and their clients. Its innovative solutions enable fast, frictionless card and open banking payments. Prommt is an enterprise-grade solution that is built for teams, supporting multiple locations and provides powerful reporting, and alerting capabilities. Based in Dublin, Ireland, Prommt is used by businesses today across Europe and North America. For further information please visit https://www.prommt.com/
About FreedomPay
FreedomPay's Next Level Commerce™ platform transforms existing payment systems and processes from legacy to leading edge. As the premier choice for many of the largest companies across the globe in retail, hospitality, lodging, gaming, sports and entertainment, foodservice, education, healthcare and financial services, FreedomPay's technology has been purposely built to deliver rock solid performance in the highly complex environment of global commerce.
The company maintains a world-class security environment and was first to earn the coveted validation by the PCI Security Standards Council against Point-to-Point Encryption (P2PE/EMV) standard in North America. FreedomPay's robust solutions across payments, security, identity, and data analytics are available in-store, online and on-mobile and are supported by rapid API adoption. The award winning FreedomPay Commerce Platform operates on a single, unified technology stack across multiple continents allowing enterprises to deliver an innovative Next Level experience on a global scale. www.freedompay.com 
For more information, please contact:
Prommt:
Ashley Roberts, Senior Account Executive, Clearstory International
E: ashley@clearstoryinternational.com
P: +44 777 088 4893
FreedomPay:
Garrett Brennan, Head of External Relations, FreedomPay
E: garrett.brennan@freedompay.com
P: +44 755 138 6482