Posted September 19, 2022 by FreedomPay
Women in Technology: Laura Pride
By 2030, almost three million young women may be working in Technology. FreedomPay's Women in Technology series aims to inspire ambitious girls and women to consider careers in STEM and motivate them to take on leadership responsibilities by giving strong, successful, and passionate women a platform to share their stories.
Laura Pride is Global Head of Marketing at data insight and technology-led Communications agency, Indicia Worldwide. We asked Laura to share her experience, advice, and inspiration as a successful woman leader in a male-dominated sector.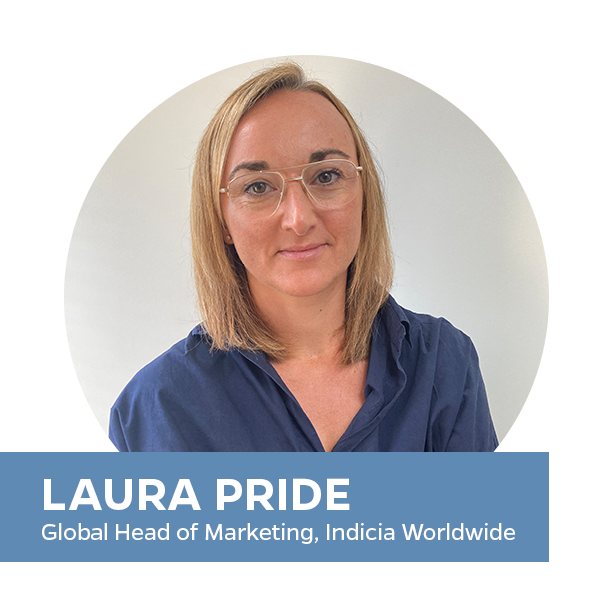 Are you from a Tech background?
No. I studied Anthropology and French at University, followed by a vocational Postgraduate Diploma in Broadcast Journalism. I started my career in Journalism, developing strong communication skills and strengthening my ability to read and actively listen to people from all walks of life.

Which transferrable skills did you develop?
I turned stories around for radio, TV, or online audiences within a day. I digested and reformulated complex topics for a range of audiences, from in-depth governmental reports to scientific data from the Environment Agency. How could I engage stakeholders and promote AI or Machine Learning if I didn't understand what they were and what they meant to and for the target audience?
In Data and Tech, presentation is key to capturing the depth of expert knowledge and repackaging it to entertain and inform. When I moved into data-led Marketing and Communications, the key skill set I'd nurtured didn't change. This eased my transition into the sector.
I'm also highly skilled behind the camera and in post-production. This was very unusual 10 to 15 years ago, particularly for a woman! My technical abilities in software editing and filming have enabled me to create quality content and campaigns while working both in Journalism and Marketing and Comms.

Why is Tech a good industry for women?
There's constant movement and innovation, creating an abundance of opportunities. The prevalence of remote and hybrid roles levels the playing field for men and women.

How can we promote gender parity in STEM?
I've been involved in initiatives encouraging young girls and teenagers to study STEM subjects. Gender diversity in Tech is improving by championing women working in traditionally male-dominated environments. Visibility and access to education are key to motivating underrepresented groups to consider careers in STEM and sustain progress.

Advice for companies?
To recruit strong female candidates, hire and promote women senior leaders. If the pool of talent applying for a position isn't diverse, ask yourself and your company why that may be and how you can attract a wider selection of applicants. Consider what could be putting candidates off from applying. Also, implement flexible policies which support and invest in working parents.

How can people be strong allies to women in Tech?
Give women a platform and speak up publicly to champion women. Promote and praise women for their successes. When senior leaders of companies do this, it cascades down through the company to promote a positive and inclusive environment.

Which women inspire you?
Liesl Smith, the current Senior Vice President of Global Marketing and Sales Enablement at FreedomPay. I used to work with her. She's knowledgeable, supportive, and forthright… she doesn't compromise on quality and standards. It's inspiring to see her upward career trajectory.

What would you look for in a mentee?
Someone willing to learn, who's open to listening to advice and experience. They shouldn't be afraid to ask for support, whether around developing a skill, managing relationships, or sourcing information about a new field or company.

On the flip side, what qualities are important in a mentor?
Honesty, someone who will give their opinion and offer tangible advice with examples and solutions based on their knowledge, expertise, and even their contacts. Having a mentor who's been through something similar is powerful. A mentor should be relatable and not too distanced from your circumstances, so someone much more senior than you may not be the right fit.

What is your greatest career success?
When I found my career in News, Media, and TV incompatible with having a young family, I successfully used my transferrable skills to move to the corporate environment of Marketing and Comms.

Do you have any advice for girls and women considering a career in STEM?
Firstly, know your worth and put yourself forward. Banish the impostor syndrome. Understanding the value of my skill set enabled me to find new opportunities in a different sector after going through a redundancy. It's good to know where your areas to improve are, but don't let them stop you going for opportunities. Equally, always prioritize your mental health and well-being by stepping away from toxic, unproductive, or unsupportive environments.
Secondly, keep learning. If you study something that you're passionate about, you'll be much more likely to stick with it.
Thirdly, keep trying new things. You'll develop transferrable skills and experience while you find the industry or sector you gel with, even if it's not quite what you expected.
Finally, find a manager, boss, or mentor who's interested in you and your development and will champion you and your abilities.

How can women network remotely?
Reach out to people on social media. Be bold. Comment on LinkedIn posts and start a dialogue or join industry groups. This will give you visibility and the opportunity to make connections and grow your network.

Thank you, Laura!

Are you interested in joining FreedomPay? We're hiring. Visit our careers page today. FreedomPay is an equal opportunities employer, motivated to hire women and other underrepresented groups in STEM.