Posted September 13, 2022 by FreedomPay
Women in Technology: Irina Solovey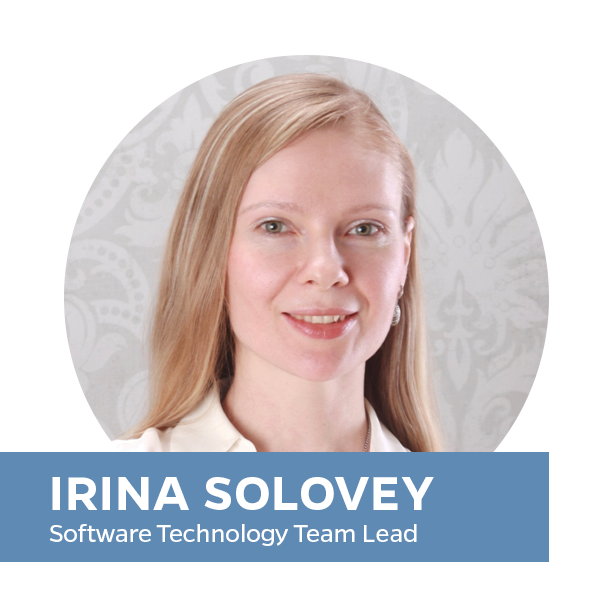 Tell us about your job .
I lead two teams of six and seven people. I oversee various projects, resolving complex technical difficulties and ensuring we meet all requirements. Alongside my role as Software Technology Team Lead, I act as a Scrum Master.
The fast-paced environment at FreedomPay works well for me. I enjoy the constant challenge and continuous learning. We have very complicated technical products, which suits me perfectly as I love solving puzzles and strategizing.

What is your background? Did you study Tech?
While I don't have any formal education in Tech or programming languages, I did receive two degrees – one in Economics with Organizational Production, and the other in Marketing with Economics.
I had 10 years of experience as a Quality Assurance (QA) Engineer and QA Lead when I joined FreedomPay. I was based in Belarus, working mostly for outsourcing companies with web-based applications.

How did you get into Technology?
I was encouraged to try out a temporary position in Search Engine Optimization (SEO) by my dad, who was a Developer. I was later offered a role by another company in QA – I loved it!

Are there any women who inspired you to work in STEM?
My mom and grandma have been my biggest role models. They were both Heads of Department, working in Economics.
I also admire the women I work with. I learn a lot from the amazing Project Managers and Product Owners at FreedomPay who lead successful teams and have vast technical knowledge.

Any advice for girls and women that are hoping to succeed in STEM careers?
Be curious and proactive. Do your research and always do your homework. Figure out what you want and go for it.

Why should women consider joining FreedomPay?
FreedomPay has vacancies to suit all different tastes and skill sets. We have openings in Management, Technical roles that deal with code, and lots of entry-level positions. As there is a shortage of skilled people with relevant knowledge in the labor market, we focus on training talent.
Also, FreedomPay's remote work policy gives employees the flexibility to manage their work and home lives.

How would you describe the culture at FreedomPay?
At FreedomPay, everyone is very supportive and eager to help out – all you need to do is ask. We're all aligned on and committed to our mission, too. When we speak about our projects and the company, there's a spark in our eyes. People truly enjoy their work.

We're also very inclusive. There are a lot of women in my department. We're looking for strong candidates from all genders, races, ages, religious backgrounds, and sexual orientations.

Any final thoughts?
English isn't my native language, so getting to where I am now has been a challenge. But I'm not unique in my journey. If I can do it, everyone can do it! I want to inspire women to figure out what they want and go for it.

Thank you, Irina!

Are you interested in joining FreedomPay? We're hiring. Visit our careers page today. FreedomPay is an equal opportunities employer, motivated to hire women and other underrepresented groups in STEM.